Carmina Burana at the Sage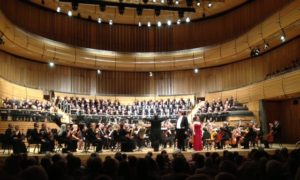 It is not often that such a large number of performers come together but when they do you can expect something special. Orchestra North East, Bishopwearmouth Choral Society, Ryton Choral Society, Bishopwearmouth Young Singers and singers from King's School Tynemouth all combined to make the performance of Carmina Burana quite memorable on Sunday 7th July 2013 at the Sage, Gateshead. David Murray's conducting brought the piece to life and all of the soloists – Laurie Ashworth, Alexander Robin Baker and Peter Vasey – made their own special contribution. The rest of the programme was well  chosen and everyone – performers and audience alike – went home very moved by the experience.
The 'official' review of the concert was prepared by Gavin Engelbrecht and published by the Northern Echo on Thursday 14th July 2013 :-
" The Orchestra North East, joined by the Bishopwearmouth and Ryton choral societies along with a children's chorus,
showcased the collective wealth of the region's musical talent with a rare outing of Carl Orff's Carmina Burana.
Performing under the baton of David Murray to a packed audience at The Sage Gateshead, the orchestra opened the evening with Aaron Copland's Fanfare for the Common Man and Puccini's Preludio Sinfonica in A Major.
Proceedings warmed up further with Ralph Vaughan Williams' Five Mystical Songs, fronted by guest soloist Alexander Robin Baker, whose warm baritone filled the acoustic space of Hall One, with sensitive backing from the choruses.
Carmina Burana exploded into life with the singers belting out O Fortuna, as timpanist Andy Booth beat his instruments for all they were worth. The opening movement drew rapturous applause, as did many of the remaining 23.
Murray did a brilliant job of marshalling the enormous musical forces, keeping a keen control of the dynamic rhythm changes.
Baker sang lustily as he welcomed the warmth of the sun, while the choruses relished every moment of Ecce gratum (Behold the pleasant Spring) The sopranos soared to the heavens in a lilting Floret silva nobilis.
Singing in a high falsetto, Peter Vasey did a brilliant take on the roasting swan, twisting his neck around to contemplate the gnashing teeth of the tavern guests who taunt him with the line "now black and roasting fiercely".
The children's choir, for their part, rose to the occasion with a delightful delivery of Amor volat undique.
Soprano Laurie Ashworth sang with ringing clarity, fearlessly hitting the high Cs of Dulcissime.
It was a performance of visceral intensity delivered with professional flair."