Dido and Aeneas – Purcell & Who are these angels? – Macmillan – June 21st 2014
A Saturday evening concert in Sunderland Minster starting at 7.30 p.m., in conjunction with the Edinburgh Quartet and conducted by David Murray, from the harpsichord.
Tickets are £12.00 (concessions £6.00 for full-time students and those on income related benefits) or £8.00 in the Gallery with restricted views. Accompanied children under 16 years admitted free. Tickets are available from members of the Society, at the door, or on-line from http://www.wegottickets.com/BCS
Soloists :      Sally Burchell (Dido), Luke Williams (Aeneas) and Elen Lloyd Roberts (Belinda).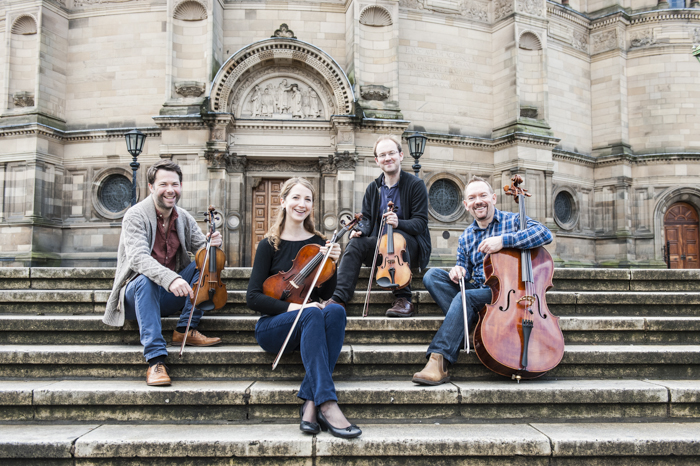 The Edinburgh        Quartet
Tristan Gurney            Violin
Gordon Bragg              Violin
Jessica Beeston            Viola
Mark Bailey                   Cello
The Edinburgh Quartet has a long and colourful history as one of Britain's foremost chamber ensembles, having appeared regularly at prestigious venues across the UK and toured extensively across Europe, the Far and Middle East, and North and South America.
In addition to a busy concert schedule the Edinburgh Quartet is frequently featured in radio broadcasts for the BBC and other stations.  Recently this has included live appearances on Classics Unwrapped (BBC Radio Scotland) and Jazz Line-Up (BBC Radio 3) as well as video recordings for Studio One Sessions, which appear on the BBC Radio Scotland website.
The Edinburgh Quartet is committed to nurturing talent and is resident at EdinburghNapierUniversity and the University of Aberdeen.  The Quartet has recently embarked on a new residency at the University of Stirling and it continues to maintain a strong association with the University of Edinburgh.  As well as giving a regular classical concert series at each of these institutions, the players work with composition students, instrumentalists and student teachers.  In addition to working with university students the Edinburgh Quartet's outreach programme encompasses workshops for primary and secondary school children and tutoring adults on the Variations Summer School in Ullapool and an annual Spring Chamber Music Course in Linlithgow.
Dido and Aeneas is an opera in a prologue and three acts, written by the English Baroque composer Henry Purcell with a libretto by Nahun Tate. The first known performance was at Josias Priest's girls' school in London no later than the summer of 1688. The story is based on Book IV of  Virgil's Aeneid. It recounts the love of Dido, Queen of Carthage for the Trojan hero Aeneas, and her despair when he abandons her. A monumental work in Baroque opera, Dido and Aeneas is remembered as one of Purcell's foremost theatrical works. It was also Purcell's first opera, as well as his only all-sung dramatic work.
James MacMillan read music at Edinburgh University and took Doctoral studies in composition at Durham, lecturing at Manchester before returning to Scotland and composing prolifically since whilst working with a wide range of others, from orchestras to folk bands. His music is infused with the spiritual and the political. His Roman Catholic faith has inspired many of his sacred works and Scottish traditional music has also had a profound musical influence. Who are these angels?  was composed in 2009 and is based on a Latin text attributed to St.Augustine of Hippo. It provides a small, but beautiful, taste of the wide accomplishments of this modern composer.