New way of obtaining concert tickets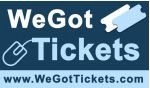 The Society is pleased to announce that there is now an additional way for our audience to obtain tickets for performances. Future concerts will be advertised on this site with a unique link to the WeGoTickets site holding tickets.
This organisation does not actually issue tickets but gives the purchasor a reference number, which will be used at the door in lieu of an actual ticket, but it does provide an immediate on-line option with credit card facilities, for a small booking charge. Their site will also provide additional publicity which internet users can consult by date, area, specific venue, or performers.