Singing Day – Saturday 9th February 2019
As part of the preparation for our Anniversary concert, the Society will be hosting a Singing Day led by Aidan Oliver. Bishopwearmouth Choral Society was founded in 1948 and gave its first performance, Hayden's Creation, in March 1949 in the then Bishopwearmouth Church. As part of our 70th Birthday celebrations we shall again perform Creation on Saturday March 30th 2019 at 7.30 p.m. in the same venue now known as Sunderland Minster.
As well as the Singing Day allowing us as members a preview of the work to be performed later in the year, we hope that it will attract singers from other choirs to see what Bishopwearmouth Choral Society is all about informally and through singing together.
Pre-booking is essential and the brochure with details about how to do that (and how attendees can apply for a special offer on tickets for the actual concert in March) can be found on this link BCS 70th Brochure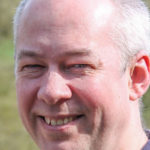 Aidan  is a conductor and choir director who works widely across the full range of symphonic, operatic and church music. Recently appointed the new director of the Edinburgh Festival Chorus, he is also the director of Philharmonia Voices and Director of Music at the Parliamentary Church, St Margaret's, Westminster Abbey.
As guest chorus master Aidan Oliver has worked with choirs including the BBC Symphony Chorus, BBC Singers, Huddersfield Choral Society, the Chorus of English National Opera, and the RIAS Kammerchor of Berlin. He has directed the music at St Margaret's Church, Westminster Abbey since 2003, overseeing many high-profile occasions including the memorial services of Lord Snowdon and Jo Cox MP. He has worked frequently as a guest on the music staff of the Royal Opera House and is the musical director of Dulwich Choral Society; since 2011 he has also been Associate Conductor of the St Endellion Summer Festival in Cornwall having first become involved there in 2004 at the invitation of Richard Hickox.
Philharmonia Voices was founded by Aidan in 2004 to provide the Philharmonia with an elite professional choir which has since collaborated with the orchestra on a huge range of projects. Working particularly closely with the Principal Conductor, Esa-Pekka Salonen, the choir has also worked frequently with conductors including Vladimir Ashkenazy, Christoph von Dohnányi, Jakub Hrůša, and John Wilson. Highlights for the choir in recent years have included the Philharmonia's acclaimed 2016 series Stravinsky: Myths and Rituals, which won a South Bank Sky Arts Award; several appearances at the BBC Proms and European premières including Shostakovich's rediscovered operatic fragment Orango.
Aidan will take up his position in Edinburgh in September 2018, while still living in London and pursuing an increasingly diverse conducting career.
It is hoped that singers from other groups will be able to join us in this opportunity.
Programme for the day :
Registration / Coffee 9.45 am onwards
First session 10.15-11.25 am.
Coffee.
Second session 11.45-12.45 pm.
Lunch.
Third session 1.45-2.50 pm.
Tea.
Final session 3.15- 4.15 pm. (including informal mini-performance of selected movements)